The CIO-SP3 SB program supports the National Institutes of Health (NIH), the National Information Technology Acquisitions and Assessment Center (NITAAC), and other government agencies. This contract is designed to support Federal CIOs requiring quick and flexible IT support services.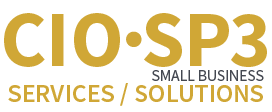 ValidaTek-CITI, LLC, a ValidaTek and CITI Small Business Administration-approved joint venture, was created to bring our clients a broad variety of capabilities and skills. The ValidaTek-CITI LLC, together with Avery Partners, Ross Group Inc., Genome International, and VariQ, focus on bringing our clients the following core capabilities in the areas of:
Biometrics technology

Infrastructure and operations

Software engineering

Health IT security engineering and emergency preparedness

Business intelligence and analysis

Solution integration services

Data warehousing and data mining

Solutions for genomic and proteomic data analysis

Imaging
Our Small Business Group Contract:
Our 8(a) Disadvantaged Small Business Group Contract:
Prompt Payment Terms – None
Program Manager: Matthew Southern
703-972-2272  | [email protected]
For more information, please contact [email protected].